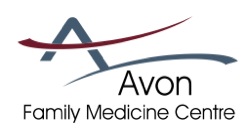 Monday - Friday

9am - 4pm
*Subject to change – please call our office to confirm
Please click here for information regarding our After Hours Clinic.
APPOINTMENTS & ONLINE BOOKING
Appointments can be made by calling the Avon Family Medicine Centre Monday to Friday from 9 am – 4 pm. Please call after 10 a.m. for non-urgent appointments. The Avon Family Medicine Centre is not an open-access clinic.
When making an appointment please notify reception if you have any forms that need to be completed by your doctor.
Online Appointment Booking
You will need your health card and the name of your doctor to book an appointment.
For more info on online appointment booking Click Here.
Free parking is available at this location.
Patients are able to get their bloodwork done at:
Jenny Trout Centre in Stratford:
Hours of Operation: Monday – Friday 7:00 am-4:00 pm. Book online at www.lifelabs.com or call 1-877-849-3637.
Please note: Lifelabs is no longer accepting walk-ins
Location:
Jenny Tout Centre (LifeLabs)
342 Erie St., Suite 116, Stratford, ON
OR
Find the closest LifeLabs location near you here.
Dynacare:
Hours of Operation: Monday – Friday 8:00 am- 4:00 pm. Closed Wednesdays at noon.
Location:
106-444 Douro St., Stratford, ON
Stratford General Hospital:
SGH no longer does any outpatient bloodwork.
Not all services are covered by OHIP. A current list of fees can be found in the office. Payment for fees not covered by OHIP can be made by interact, credit card, cheque or cash.
Please notify your healthcare provider during your visit of any required prescription renewals.
All referrals are sent directly from your provider to the intended specialist or program. Patients will be contacted directly, either by phone, mail or email when an appointment date and time has been made. Wait times will vary depending on the type and urgency of the referral being made.


The Avon Family Medicine Centre has been selected to be a training centre for new family doctors through the University of Western Ontario. Family medicine residents are highly trained doctors who already have a 3 or 4 year university degree and 4 years of medical school training. Together with your family doctors and staff, these resident doctors will provide you and your families with the best care possible. Your involvement and feedback as patients are very important to the training of these doctors.
Avon Family Medicine Centre does not call their patients with normal test results. If you are worried about test results, please contact the office. Non-urgent calls will be returned within 2-3 days.
If your injury or illness is work related, your physician must submit documents to WSIB. Please bring your portion of the form completed and signed.
Nicole Rider, M.Ed., C. Psych. Assoc.